The Research Experience for Undergraduates on Sustainable Land and Water Resources
Please visit us at http://reuslawr.org
The REU on Sustainable Land and Water Resources introduces undergraduate students to the key elements of research on land and water resources that are essential to improving management practices. Research teams are hosted on two Native American reservations and at the University of Minnesota and projects are developed in collaboration with the tribes' resource management divisions. The REU incorporates an interdisciplinary team-oriented approach that emphasizes quantitative and predictive methods, Indigenous and community-based research methods, and traditional ecological knowledge. 
Projects take place on the main campus of the University of Minnesota, Minneapolis; on the Fond du Lac Reservation in Northern Minnesota; and at Salish Kootenai College on the Flathead Reservation in Montana. Students in Civil Engineering, Earth Sciences, Hydrology, Chemistry, Biology, Ecology, Sustainability, Mathematics, and related disciplines are invited to apply.
The REU on Sustainable Land and Water Resources introduces undergraduate students to the key elements of research on land and water resources that are essential to improving management practices, with a focus on Community-Based Participatory Research (CBPR) and diverse interdisciplinary research teams. Students work on one of three teams on projects that integrate Earth-surface dynamics, geology, hydrology and other disciplines.  Research teams are hosted on two Native American reservations and at the Univ. MN and projects are developed in collaboration with the tribes' resource management divisions.  The REU incorporates an interdisciplinary team-oriented approach that emphasizes quantitative and predictive methods, CBPR, indigenous research methods, and traditional ecological knowledge.
The REU encourages participation by underrepresented students and students who are unsure about how they fit into the world of science to pursue STEM careers.  The REU develops unique rigorous scientific research projects that are place-based, meaningful, and that are the product of an intensive collaboration with Native American communities. This REU supports students in ways that go far beyond a typical REU, and takes place at three different and geographically dispersed sites (Salish Kootenai College, Pablo, Montana; the University of Minnesota, Twin Cities Campus; and the reservation of the Fond du Lac Band of Lake Superior Chippewa, with students living and working at the University of Minnesota, Duluth). The REU encourages all students to apply, including Native Americans, students from other groups underrepresented in the sciences, men and women, nontraditional students, parents, veterans, and students with disabilities. Students who are not able to come and participate at one of our sites can apply to participate remotely. The students, faculty, graduate and post-doctoral mentors, tribal professionals, and other community members will be intimately engaged in community-based participatory research (CBPR).  The protocols and methods for effective CBPR (and in particular with tribal entities) will be modeled and supported by literature and practice.  Projects developed through CBPR for this REU will inherently support tribal resource management goals.  Results will be disseminated to tribal authorities and community members as well as the broader scientific community.
Dr. Dalbotten is the co-Director of the REU, organizes the Minnesota teams, and oversees All-Team activities.  
The Geoscience Alliance
Please visit the Geoscience Alliance at http://geosciencealliance.org
The Geoscience Alliance (GA) is a national alliance of individuals committed to broadening the participation of Native Americans, Alaska Natives, and people of Native Hawai'ian ancestry in the geosciences. Its members are faculty and staff from Tribal Colleges, universities, and research centers; Native elders and community members; industry and corporate representatives; students (K12, undergraduate, and graduate); formal and informal educators; and other interested individuals.
Our membership is drawn from the geosciences, as well as environmental and sustainability sciences, wildlife biology, engineering, applied mathematics, and other related disciplines. The goals of the Geoscience Alliance are to 1) create new collaborations in support of geoscience education for Native American students, 2) establish a new research agenda aimed at closing gaps in our knowledge on barriers and best practices related to Native American participation in the geosciences, 3) increase participation by Native Americans in setting the national research agenda on issues in the geosciences, and particularly those that impact Native lands, 4) provide a forum to communicate educational opportunities for Native American students in the geosciences, and 5) to understand and respect indigenous traditional knowledge. At the 4th GA Conference, held in Phoenix, AZ in 2019, 54 different Native American, Alaska Native, and Native Hawai'ian Nations were represented by individuals in attendance.
Diana Dalbotten is the founder and co-Director of the Geoscience Alliance.
NSF INCLUDES Native FEWS Alliance
Please visit the Native FEWS Alliance at http://www.nativefewsalliance.org/
Significantly broadening the participation of Native American students in Food, Energy, and Water Systems education and careers to address critical challenges facing their communities.
Our NSF INCLUDES Alliance, led by a strong number of Indigenous faculty, researchers, and partners, fuses place-based approaches to teaching and diversity with applied research in food, energy and water systems (FEWS) and Indigenous knowledges and ways of knowing. The dual vision of the Native FEWS Alliance (the Alliance) is to build a highly skilled Native American (NA) STEM workforce at the nexus of Food, Energy and Water and to co-innovate and deploy Indigenous place-based FEWS education and community partnerships. The Alliance's goals are to:
Address urgent FEWS challenges in Indigenous communities.
Co-develop integrated, Indigenous, place-based FEWS curricula, mentoring, and practice experiences.
Transform institutional STEM fields to be relevant and accessible to Indigenous communities.
Use curricula and interventions to recruit, retain and graduate Indigenous students to pursue higher education and careers in FEWS and bring their knowledge back to their communities.
To accomplish these goals with an aim to increase and widen career opportunities relevant to NA communities, the Alliance will connect an array of professional FEWS pathways by aligning a network of many Indigenous-focused programs into a cohesive partnership.
Dr. Dalbotten is the Project Lead for the NFEWS Stepping Stone on Community Partnerships.  She is also the Facilitator of the Project Leads team.
Polar Geospatial Center (PGC)
Visit the Polar Geospatial Center at https://www.pgc.umn.edu/
The Polar Geospatial Center (PGC) at the University of Minnesota provides geospatial support, mapping, and GIS/remote sensing solutions to researchers and logistics groups in the polar science community.
We support U.S. polar scientists to complete their research goals in a safe, timely, and efficient manner by providing a service which most groups do not have the resources or expertise to complete.
Our mission is to introduce new, state-of-the-art techniques from the geospatial field to effectively solve problems in the least mapped places on Earth.
Dr. Dalbotten supports diversity and inclusion for the Polar Geospatial Center.
Kawe Gidaa-naanaagadawendaamin Manoomin - First we must consider Manoomin / Psiη (wild rice) - A Tribal-University Research Collaboration
Please visit us at https://manoominpsin.umn.edu/
Launched in January 2018, Kawe Gidaa-naanaagadawendaamin Manoomin (First We Must Consider Manoomin/Psin) is a collaboration among tribes, intertribal treaty organizations, and University of Minnesota faculty, staff, and students, that prioritizes tribal views on the cultural significance and ecology of Manoomin / Psiη (Wild Rice), and the policies related to it.
Manoomin/psiη (wild rice) is a sacred plant for Native peoples throughout the Great Lakes region. Unfortunately, Manoomin has been declining due to multiple environmental stressors. Native people who have lived with manoomin / psiη for generations understand this intimately, but tribal views, concerns, and treaty rights have not been adequately incorporated into natural resources policies. Protecting tribal resource sovereignty demands a culturally responsible, whole ecosystem approach to environmental stewardship.
Manoomin is linked to people and ecosystems (outer ring) through multiple social dimensions and biophysical processes (middle ring), which together encompass a coupled socio-environmental manoomin system. Manoomin, according to Anishinaabe traditions, relies on human relationships. Harvesting and ecosystem management are two traditional and contemporary ways Anishinaabe people steward manoomin.
Our project aims to center tribal perspectives and research questions. In continuing collaboration with tribal project partners, members of affected communities, and other stakeholders, we will:
Address questions identified by tribal resource managers and other tribal community members about the multitude of environmental threats to Manoomin / psiη (wild rice), including unnatural water levels, invasive and competing species, and perturbed water and sediment quality;
Analyze existing documents and conduct new interviews to understand how Native voices have been marginalized in policy development, including information on the historical distribution of Manoomin / psiη (wild rice) waters and the cultural value of Manoomin / psiη (wild rice);
Formulate a collaborative plan – one that prioritizes tribal values, knowledge, and needs – for integrating multiple viewpoints into university, state, federal, and tribal policies, with the ultimate goal of protecting tribal resource sovereignty.
Dr. Dalbotten is on the UMN team and supports undergraduate participation in this project.
Water Values Project
Water Values is a collaboration the University of Minnesota and the gidakiimanaaniwigamig (Our Earth Lodge) Native American Math and Science Program, led by Fond du Lac Tribal and Community College Cloquet, Minnesota.  During gidakiimanaaniwigamig science camps, UMN faculty and staff, including personnel from the Bell Museum of Natural History are working with students to create stories about water which they will share in the Bell's Planetarium. Students will also present their stories by developing ESRI ArcGIS story maps.
Dr. Dalbotten supports project management and facilitates interaction with tribal partners.
Thriving Earth Exchange Fellow
Visit our Thriving Earth Exchange project at https://thrivingearthexchange.org/project/big-sandy-rancheria-ca/
As a Thriving Earth Exchange Fellow, Dr. Dalbotten is working to pair scientists with a project at Big Sandy Rancheria in California.  The project is focused on Developing a Climate Change Assessment and Climate Change Adaptation Plan for Big Sandy Rancheria  of Western Mono Indians of California (BSR), a federally recognized Indian tribe. The Big Sandy Rancheria is located in central part of the State of California in a rural section of eastern Fresno County. BSR is situated in the foothills on the western slope of the Sierra Nevada Mountain Range. The Big Sandy Rancheria has a current California Department of Transportation (Caltrans) Planning Grant to develop an Emergency Evacuation Plan and a FEMA Hazard Mitigation Planning Grant to develop a Tribal Hazard Mitigation Plan. A community survey focusing on issues such as transportation, engineering and other important community resources is helping understand what tribal members see as the big issues of security that need to be answered.  However, there is no climate language in the survey.  Some of the main priorities that are being addressed under this FEMA award include landslides, flooding, fires, and their impacts on seasonal cultural gatherings for resources for baskets and other important cultural resources, and these issues all have a clear connection to changing climate.  However, the tribe needs a better understanding of how climate change plays into future management of these issues.  The tribe also has a current EPA GAP (General Assistance Program) Grant that encourages the development of a Climate Change Adaptation Plan.  Collaboration with scientists to bring a better understanding of how climate change affects tribal lands and coupling it with the FEMA Hazards Response Plan is the goal of this project.
LTER: The Changing Nature of Cities: Ecological and Social Dynamics in the Minneapolis-St. Paul Urban Ecosystem
Visit this project at https://mspurbanlter.umn.edu/
The Minneapolis-St. Paul Metropolitan Area (MSP) Long Term Ecological Research program brings together dozens of researchers from the University of Minnesota, University of St. Thomas, USDA Forest Service, The Nature Conservancy, and Water Bar, to study how urban stressors affect the ecological structure and functioning of urban nature, including for pollinators, the urban forest, urban watersheds, and lakes and streams. Researchers also study how urban residents interact with urban nature, and how the benefits and burdens of urban nature are not experienced equally by all residents. Ultimately, LTER researchers aim to better understand urban nature, as well as the policies and practices that are currently in place, to improve environmental outcomes for all residents.
Dr. Dalbotten is part of the Community Partners Team and also supports undergraduate student research for this project.
Ecological Forecasting Initiative
Visit the Ecological Forecasting Initiative at https://ecoforecast.org/
The Ecological Forecasting Initiative is a grassroots consortium aimed at building and supporting an interdisciplinary community of practice around near-term (daily to decadal) ecological forecasts.
Ecologists have long tried to predict natural systems for both basic and applied purposes.  Clark et al. 2001 first defined ecological forecasting as "…the process of predicting the state of ecosystems, ecosystem services, and natural capital, with fully specified uncertainties, and is contingent on explicit scenarios of climate, land use, human population, technologies, and economic activity." 
Much of the imperative to focus on ecological forecasting comes from the need to respond to the multitude of environmental problems facing society and the aspiration that environmental decisions be made with the best available science in hand. In fields such as fisheries, wildlife, algal blooms, wildfire, and human disease, we often need to know how ecosystems, and the services they provide, are going to change in the future and how do humans affect those trajectories? Because all decision making is ultimately based on what will happen in the future, either under the status quo or different decision alternatives, environmental decision making ultimately depends on forecasts. Ecological forecasters try to make those forecasts, and their uncertainties, explicit.
At the same time, making ecology more predictive is also key to advancing basic science and maturing as a discipline. Generating forecasts forces us to synthesize what we already understand about a system, embodying that understanding in a quantitative model of how we think things will be different in the future, at a new location, or under different conditions. This potential to simultaneously improve basic science and increase social relevance represents a promising win-win scenario.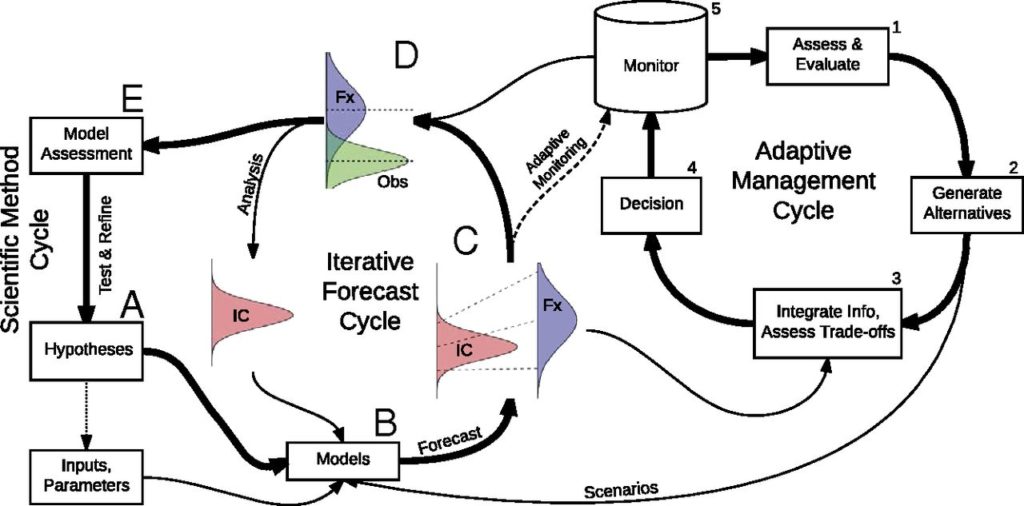 Near-term Ecological Forecasting Cycle; Dietze et al. 2018
To date, much of the research on ecological forecasting has focused on long-term projections (e.g. climate change scenarios for 2100), which are important but are beyond the timeline of many management and policy decisions and do not provide much opportunities for learning (we won't know for decades if our forecasts are correct).  By contrast, frequent iterative forecasts provide constant feedback, which accelerates learning and helps prioritize future research. Such forecasts embody the scientific method, requiring that (i) all predictions be specific and quantitative, and (ii) all predictions be tested against future events (out-of-sample validation). By being quantitatively precise about both our predictions and how confident we are in them, forecasts are more open to direct refutation. Forecasts encourage robust, reproducible science, and their a priori specification provides natural protection against overfitting. The constant feedback of iterative forecasting isn't just a benifit to basic science, it also allows us to provide societally-relevant information closer to real-time in a way that facilitates more adaptive approaches to management and decision making.
Article: Can scientists learn to make 'nature forecasts' just as we forecast the weather?
Our goal is to discover whether nature is predictable. That can't be done by forecasting one thing really well, it requires that we attempt to forecast a lot of different processes at a lot of different locations and then examine the higher-level patterns to what makes some processes and spatial/temporal scales more predictable than others. Achieving that goal will require a community of researchers working together.
At the same time, the science and practice of ecological forecasting would be improved by better communication and sharing in many areas (theories, tools, training, etc.). There are many silos within ecology that are not always aware of the latest forecasting research in other areas. Similarly, ecological forecasting relies on interdisciplinary coordination and collaboration with researchers in a wide range of other disciplines, such as decision science, the physical environmental sciences, statistics, informatics/data science, and computer science. Ecological forecasts often utilize the increasing availability of near-real-time ecological data, which requires coordination with data providers, sensor engineers, and the cyberinfrastructure delivering data. Finally, ecological forecasters need to work closely with agencies, industry, citizen scientists, and other stakeholders and end users on the co-production of societally useful forecasts.
Dr. Dalbotten is the Chair of the Diversity, Equity, and Inclusion Committee for EFI and also is a member of the Education Committee and the Community Partners Committee.
Investigating Spatial-Temporal Informatics for Transportation Science
Transportation accounts for over a quarter of U.S. energy use and greenhouse gases as well as hundreds of thousands of premature deaths annually from toxic emissions such as Nitrous oxides. Therefore, reducing harmful vehicle emissions and energy consumption are important goals for our society and transportation science. A key challenge is the limited understanding of emissions and energy-consumption during real-world driving. This project investigates the potential of emerging vehicle big data to further the understanding of emissions and energy consumption during real-world driving. Currently underutilized by vehicle manufacturers and regulatory agencies, vehicle big data details emissions and energy use at high frequency and spatial resolution. It has rich information to help identify patterns of unacceptably high emissions or energy use as well as associated vehicle properties or road features. Such patterns will be used to improve prediction of emissions and energy use during real-world driving. In doing so, the research will lead to improved vehicle design and operation practices to reduce future emissions and energy use to save lives by improving air-quality and dampening climate change. It will also improve education through a creative eco-driving challenge to maximize distance travelled for a fixed energy (or emission) budget in a driving simulator environment.
The goal of this project is to build next-generation spatio-temporal informatics (STI) tools to analyze emerging vehicle big data such as on-board diagnostics data to further the understanding of real-world emissions and energy consumption. The specific aims are to explore a set of concepts and develop a set of spatio-temporal informatics tools to: (a) provide a mapping between the concepts in transportation science and current informatics methods, (b) conveniently represent common patterns of interest to transportation scientists and practitioners, (c) efficiently mine novel, useful and interesting spatio-temporal patterns from vehicle big data, (d) use mined patterns to improve the physical science models of real-world vehicle emissions and energy use, and (e) integrate research results in education via eco-driving activities. The project will advance STI knowledge and understanding in multiple ways. For example, it will probe new algorithms to detect statistically-significant linear hotspots of high emissions or energy inefficiency even if these are not along shortest paths by considering simple paths in a transportation network. Furthermore, it will design new strategies to efficiently mine spatio-temporal co-occurrence patterns even when those are not prominent globally over the entire road network. The project will broaden STI's focus from simple GPS-trajectory data to multi-attributed trajectory data such as vehicle on-board diagnostics data with hundreds of physical variables and constraints. It will also enrich current laboratory and test-track focused transportation science by improving understanding of real-world energy-use, emissions, and physical science models used to predict these factors.
Dr. Dalbotten supports student outreach and broader impacts for this project.
Banded together: modern water-microbe-mineral feedbacks in the deep Archean lithosphere
The deep terrestrial biosphere is estimated to contain up to 135 Pg of carbon (C) in living and possibly dormant microbial biomass. This subsurface microbial C pool is associated with crustal aquifers with mean residence times that span hundreds to billions of years, and is decoupled from the rapid exchange processes occurring between the Earth surface and atmosphere. Microbes inhabiting the deep biosphere face unique challenges such as electron donor/acceptor limitations, pore space/fracture network limitations, and isolation from other microbes within the formation. At the Soudan iron mine in northern Minnesota, legacy boreholes drilled circa 1960 to explore the massive hematite formation provide unique access to the microbial life living in cold, highly reduced, brine fluids. Preliminary insights to the brine isotopic composition show that the d2H of water is more enriched compared to the global meteoric values. These results may suggest that deeper brines are mixing with newer meteoric waters. Total dissolved organic carbon (DOC) of these fluids is below detection limit. However, gas containing 50-80 % methane with d13C of ~-37 ‰ continuously bubbles from boreholes. Microbial communities, from 16S rRNA gene sequencing, in the brines are low in diversity and the structures generally correlate with fluid chemistry/redox. Pilot metagenomes show similarity in the community to 16S based approach. We recovered approximately 35 partial to near full genomes in total. Many of the genomes are shared between the boreholes but are differentially abundant. Interestingly, hydrogenotrophic methanogenesis was not detected. Rather, the primary methanogen recovered are typically methylotrophic. This suggests methane generation could be driven through methylated compounds produced by other microorganism in the community, which may explain the relatively enriched d13C values for methane. While these results are preliminary, they build a foundation for understanding carbon flow in microbial communities in the subsurface. Like other subsurface environments, carbon cycling is tightly regulated driven by microbe-microbe interactions.
Dr. Dalbotten supports student outreach and broader impacts for this project.
Energy and Equity Project with the Institute on the Environment
Visit the Institute on the Environment at https://environment.umn.edu/
An Energy and Equity Award from the Institute on the Environment (IonE) at the University of Minnesota is funding this "Mini-Project" on supporting Solar for Schools.  This project will bring together the University of Minnesota with Migizi, a Native American non-profit in Minneapolis, MN serving Native American youth, with representatives from Solar for Schools.  Students from Migizi will create media to support launch of 2022's Solar for Schools program.
Dr. Dalbotten, an IonE Fellow, is the lead advisor from the University of Minnesota on this project.
Supporting Research Projects at the St. Anthony Falls Laboratory
Visit the St. Anthony Falls Laboratory at https://cse.umn.edu/safl
As Associate Director for Diversity and Broader Impacts at the St. Anthony Falls Laboratory, Dr. Dalbotten supports funded research projects' broader impacts.  Current projects include:
Predicting Transport, Mixing, and Reaction in Threedimensional Heterogeneous Fractured Media Across Scales (PI Peter Kang)
Learning Convective Heat Transfer from Mass Transfer Visualization (PI Peter Kang)
An Experimental and Modeling Study of Inverse-Temperature Layer and Its Effect on Evaporation over Water Surfaces (PI Lian Shen)
Linking turbulent flow dynamics to meandering river migration (PI Ajay Limaye)